Users often inquire about having a similar question How to Pair JBL Headphones, whether connecting with PC or mobile devices is a difficult task.
Everyone loves listening to audio and there is no better way to relax than by listening to some music or calming sounds. That's why many users buy audio equipment to relax and entertain themselves.
JBL is one of the prime examples of audio devices amongst other top brands and they have an exclusive wide range of different audio devices ranging from headphones to home theaters sound systems.
The easiest way to Connect your AirPods to a laptop can also be found in our other guide. People love JBL devices as they are relatively familiar at this point with who as a company they are and secondly, because their products are excellent in virtually every aspect, from their durability to their functionality. 
Most people associate headphones with big speakers that wrap around your ears with wires so that people who want superior sound quality can use them.
The wired technology is somewhat a little old at this time as it has been taken over by wireless connectivity which sends signals to connect with your device like Bluetooth.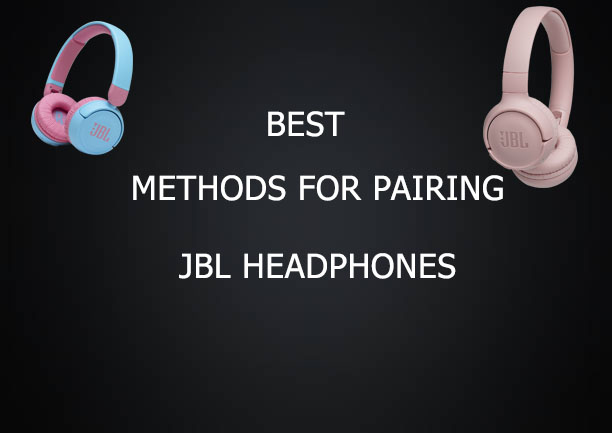 Methods For How To Pair JBL Headphones
This sudden change has caused some people trouble connecting their headphones to their devices because they don't know how to connect them properly to their devices.
Here, you will be learning different methods about How To Pair JBL Headphones to any device that you are using without any issues. Moreover, you will also be able to solve your query regarding connecting your JBL headphones via Bluetooth.
Turning On Pairing Mode On JBL Headphones
Before moving on to the device to which we need to connect our headphones we have to make sure that the headphones are on and in pairing mode. This is a very easy procedure and can be done in quick steps.
Firstly, Power on your headphones by pressing the power button. If you can't find it then look for its indication on the sides of the speakers. Once you have pressed the button an LED indicator light will light up if it has one because not every model that has Bluetooth connectivity have a LED indicator on it.
Secondly, once it is powered on press the Bluetooth button and if you can't find then you can also look for its indication on the sides. Once pressed either you will hear a beep or confirmation inside of your headphones that the Bluetooth is powered or it will also have a blue LED light just like the power button.
Now your headphones are turned on and ready to be paired with your device however the method to connect them is slightly different for each device.
Pairing JBL Headphones With iPhone Or IPad
The most commonly used device for listening to audio is a mobile phone. As iPhones have a different operating system their connectivity is also different as opposed to other devices.
Once you have powered on the headphones make sure that the device and headphones are both in range of each other typically it is 33 feet.
Now grab your iPhone and open up your settings application and then navigate to the Bluetooth option and then open it.
After opening it and a couple of seconds later you will see the list of devices that have their Bluetooth connectivity on after the phone or IPad has finished scanning for it.
Now tap on the JBL Headphones or whatever you have selected the name of your headphones. The device will either start pairing or it will ask for a passcode and usually, it is 0000 but if it is not then you can also find it in the owner manual.
Once the passcode is entered your iPhone will show you connected and you can make calls or listen to audio in your headphones.
However, if you want to listen to music or watch a movie then you also need to turn airplay on otherwise it will not work properly.
Once you are done, disconnect your headphones remember that you have to repeat the same process every time but it will not ask for the passcode if you have one for it.
Pairing JBL Headphones With Android And Tablets
As opposed to iPhones android works slightly differently but their method of connectivity is relatively the same with a small difference in it.
Power on the headphones and their Bluetooth connectivity once again and bring both of the devices closer to each other.
Now pick up your Android phone or Tablet and swipe down from the top to access the quick notification panel and here you will see a Bluetooth icon on top. Touch the icon for about 2 to 3 seconds and it will open the Bluetooth settings.
From there turn on the Bluetooth and your device will start scanning for devices when it is done you can see the name of your headphones.
Select your headphones and enter the passcode if there is one or it will automatically connect in a couple of seconds.
Now that your headphones and phone are connected, you can listen to any audio you want.
Pairing JBL Headphones With A Laptop
Pairing any headphones is kind of difficult progress compared to what we do on our Phones to connect them which is why some people only prefer to use wired ones because they are much easier to connect as you just have to plug them in but this is no longer trouble as every laptop that come today has built-in Bluetooth. So we won't need any kind of third-party app.
So the first step to solving the major query of How to pair JBL Headphones is the same that you do when you want to connect your headphones to your Phone which is to power on the Bluetooth and headphones.
Now on your laptop, you can find the Bluetooth either in your quick panel or your settings but I would suggest the setting for first-time connectivity.
Now once you have opened up your settings you can see Bluetooth and connectivity options and even if you don't you can search for the Bluetooth option in the search bar. Once located open it.
Turn on the Bluetooth on your laptop by clicking on the toggle and once you do that you can see a + icon right down below the option. Click on it and it will open a pop-up window.
There it will search for Bluetooth-enabled devices and likely your headphones will appear in that window.
Select your Headphones and the pairing progress will automatically start once done it will show you connected and then you can close the window and you are good to go.
As laptops usually have Bluetooth, your headphones will automatically connect to them once it detects them. The same thing will also apply to your phone if your Bluetooth is on.
Pairing JBL Headphones With A Computer
Unlike laptops computers usually don't come with a Bluetooth device onboard but some business PCs do come with Bluetooth so if your computer already has a Bluetooth device in it then you can easily connect your JBL headphones to your computer by following the same steps that are listed above for connecting with a laptop.
So even if you don't have an integrated Bluetooth device on your computer then don't worry you can still use your headphones with your PC because all you need is a Bluetooth adapter. 
These adapters don't cost much and are a great way for Bluetooth connectivity but are careful about purchasing them because they have different connectivity so always look for the Bluetooth 5.0 connectivity adapter as they are faster and more secure.
So once you have your Bluetooth adapter plug it inside of your computer and its driver will start to install automatically but if your driver does not install automatically then you can use the cd that came with it as they have the drivers already in them for all windows or you can download them from the internet by searching its model. 
Once you have installed your adapter and its driver your Bluetooth option will become available in your settings and you can apply the same steps as when connecting to a laptop as they work the same way and their way of working is also the same.
Conclusion For How To Connect JBL Headphones
So these are the steps that will assist you in your query that How to pair JBL Headphones. One thing to keep in mind is that depending on your headphones models their mechanism of turning the Bluetooth and headphones will be a little different but for pairing with your device they all work the same way which is enlisted in this article.
Frequently Asked Questions
How do I put my JBL wireless headphones in pairing mode?
Hold the right earbud's middle button for five seconds until pairing mode turns off if you're having trouble starting pairing. Pairing mode should be enabled when it turns on.